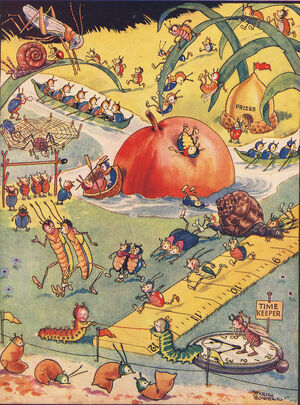 Cyril Cowell was born in Canterbury, Kent, in 1888. He was working as an illustrator by 1911. He drew for nursery comics from the 1920s to the 50s, including Fairyland Tales (1924-), Children's Own Sunday Pictorial (1933-1934), Pip and Squeak Annual (1933), Children's Holiday Fun (1937-1940) and Mickey Mouse Weekly (1950s). In the 1940s he drew the weekly gardening strip Adam the Gardener, written by Morley Adams, for the Sunday Express. He also illustrated children's books, including some by Enid Blyton. He specialised in drawing animals and the natural world. He died in Sutton, Surrey, in 1967.
References
Edit
Alan Clark, Dictionary of British Comic Artists, Writers and Editors, The British Library, 1998, p. 44
Steve Holland, Morley Adams, Bear Alley, 10 March 2007
Ad blocker interference detected!
Wikia is a free-to-use site that makes money from advertising. We have a modified experience for viewers using ad blockers

Wikia is not accessible if you've made further modifications. Remove the custom ad blocker rule(s) and the page will load as expected.