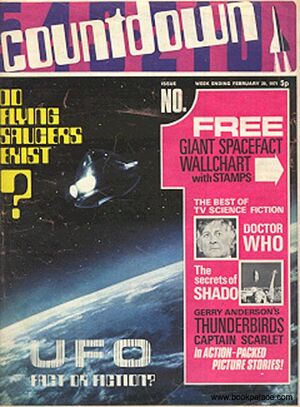 Countdown (later retitled TV Action + Countdown and then simply TV Action) was a weekly comic put out by Polystyle Publications from 1971 to 1973. Edited by Dennis Hooper, it featured strips based largely on science fiction TV series, and was intended to ride a contemporary wave of interest in the genre. Features on technological advances were also included.
In 1972, following a perceived decline of interest in science fiction, the comic was renamed TV Action + Countdown, signifying a general swerve towards the action genre. In January 1973 TV Action no longer contained references to its old Countdown name. The following September it merged into TV Comic.
Strips included:
References
Edit
Kibble-White, Graham (2005). Ultimate Book of British Comics. London: Alison & Busby. pp. 85, 253-4. ISBN 0-74908-211-9
Ad blocker interference detected!
Wikia is a free-to-use site that makes money from advertising. We have a modified experience for viewers using ad blockers

Wikia is not accessible if you've made further modifications. Remove the custom ad blocker rule(s) and the page will load as expected.