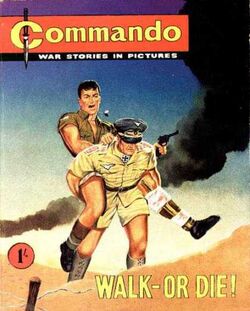 Commando is a picture library series of war stories published by DC Thomson. It was launched in July 1961 as a rival to Fleetway's War Picture Library. It was the brainchild of Chick Checkley, who edited it until 1971, followed by Ian Forbes (1971-1988), George Low (1988-2007), and Calum Laird (2007-present).
Most stories are set in World War II, although other conflicts, from ancient history to the future, are occasionally covered. During its first year two issues were published every month, rising to three in June 1962, four in August 1962, six in June 1967, and eight in April 1981. It is still published at eight issues a month, half of them reprints. Creator credits were introduced recently.
Contributors to the series include:
Writers
Artists
Cover artists
A series of collected editions, each reprinting twelve issues, have been published since 2005 by Carlton Books, compiled by George Low, editor of the series since 1963. Titles are:
The Dirty Dozen (November 2005)
True Brit (October 2006)
ANZACs At War (August 2007)
All Guns Blazing (September 2007)
Rumble in the Jungle (May 2008)
Bandits at 12 O'Clock (September 2008)
D-Day - Fight or Die! (May 2009)
Battle of Britain - Scramble! (October 2009)
External links
Edit
References
Edit
Online reference
Edit
Ad blocker interference detected!
Wikia is a free-to-use site that makes money from advertising. We have a modified experience for viewers using ad blockers

Wikia is not accessible if you've made further modifications. Remove the custom ad blocker rule(s) and the page will load as expected.