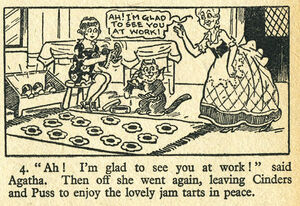 "Cinderella" is a strip that ran in Sparks. In a similar way to how the same publication's "Merry Mischiefs" takes nursery rhyme characters such as Humpty Dumpty and puts them into a conventional school setting, "Cinderella" largely removes the character from her fairy tale setting and focuses on her pre-ball life, when she was an ordinary girl putting up with hassle from Sister Agatha and the unpleasant boy next door. She does, however, have a talking cat, named Pussums.
Ad blocker interference detected!
Wikia is a free-to-use site that makes money from advertising. We have a modified experience for viewers using ad blockers

Wikia is not accessible if you've made further modifications. Remove the custom ad blocker rule(s) and the page will load as expected.