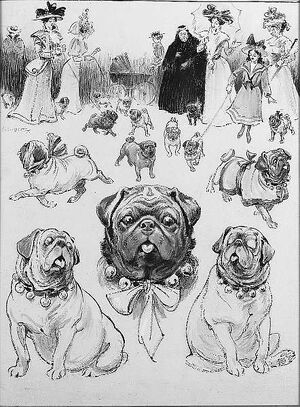 Christopher Gifford Ambler was born in Bradford in 1886. After leaving school he joined the Leeds Fireclay Company where he designed and modelled pottery, taking evening classes at Leeds School of Art. In 1910 he moved to London and worked as an illustrator. In 1914 he travelled in the USA and Canada before joining the Artists Rifles and fighting in France. After the war he resumed illustration, working for the story papers Nelson Lee Library, The Champion and the Boy's Own Paper. He also became a prolific book illustrator, specialising in dogs and horses. Before the war he had been an amateur boxer. A machine gun wound to the foot sustained in action forced him to give it up, so he became a boxing referee instead. He died in Abingdon, Berkshire, in 1965.
References
Edit
Alan Clark, Dictionary of British Comic Artists, Writers and Editors, The British Library, 1998, p. 3
Alan Horne, The Dictionary of 20th Century Book Illustrators, Antique Collector's Club, 1994, p. 69
Ad blocker interference detected!
Wikia is a free-to-use site that makes money from advertising. We have a modified experience for viewers using ad blockers

Wikia is not accessible if you've made further modifications. Remove the custom ad blocker rule(s) and the page will load as expected.