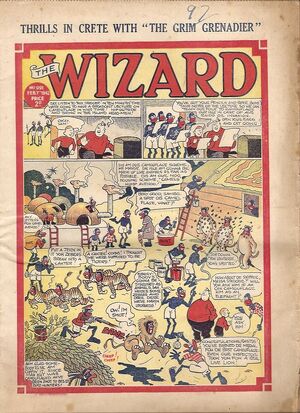 Charles Henry "Chick" Gordon was born in Poplar, London, in the first quarter of 1884. His father, Thomas, was a customs clerk, and his mother, Minnie, was a music teacher.
He moved to Dundee, and joined DC Thomson as a staff artist in 1922. He drew the one-panel cartoon "Cheery Chinks" (1922) for The Rover, and the adventure strip "Spadger's Isle" (1930-50) for The Wizard, which was the paper's cover feature during the Second World War. Other serials and comic strips he illustrated included:
He died in Dundee on 9 May 1952. His younger brother Jack was also a DC Thomson staff artist.
References
Edit
Alan Clark, Dictionary of British Comic Artists, Writers and Editors, The British Library, 1998, p. 67
Denis Gifford, Encyclopedia of Comic Characters, Longman, 1987
Ad blocker interference detected!
Wikia is a free-to-use site that makes money from advertising. We have a modified experience for viewers using ad blockers

Wikia is not accessible if you've made further modifications. Remove the custom ad blocker rule(s) and the page will load as expected.