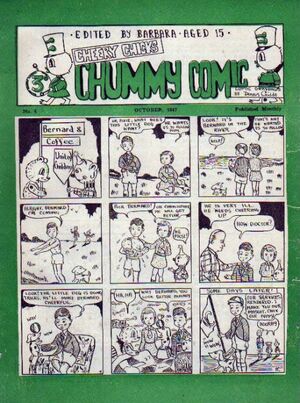 Cheery Chicks Comic, later Cheery Chicks Chummy Comic, was a monthly comic published by Aida Reubens of Ilford. Twelve issues were published in 1947-48. It was famous for being edited by a child (Barbara Willis, aged 14 when the first issue came out) and primarily written by children, although some adults, including Phillip M. Pethick, also contributed. The main artist was Dennis Childs. It was prededed by six issues of the non-comic magazine Cheery Chicks in 1946-47.
References
Edit
Ad blocker interference detected!
Wikia is a free-to-use site that makes money from advertising. We have a modified experience for viewers using ad blockers

Wikia is not accessible if you've made further modifications. Remove the custom ad blocker rule(s) and the page will load as expected.