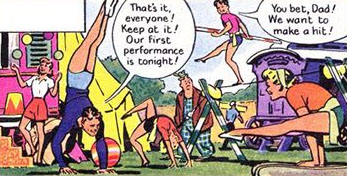 Edward Cecil Parker Orr was born in Glasgow on 29 September 1909, son of Edward Hammond Orr, a fish and poultry merchant, and his wife Mary Forrest Orr, née Anderson. He was educated at Gourock and Greenock High Schools before studying at Glasgow School of Art. He became a freelance artist at 18, then took a staff position with Associated Scottish Newspapers. While there he drew "Susie and Sambo" for Fun for the Family, a supplement to the Glasgow Daily Record.
In 1941 he joined the RAF and served for the remainder of the Second World War. After returning to civilian life, he drew illustrations for magazines including the Radio Times, and drew strips in humorous and adventure styles for the weekly comics. Strips he drew included "Happiest Days of Your Life" (1950) for Knock-Out, "Ticket to Tomahawk" (1950) for Sun, "Monty Carstairs" (1951-56) and "Stormalong" (1952) for Mickey Mouse Weekly, "Not So Simple Susie" (1953) for Girls' Crystal, "The Rolling Stones" (1954-61) for Swift, "Kiki" (1958) for Zip, "Babe and the Family" (1960) for School Friend, and "June and Jiffy" (1965) and "Bessie Bunter" (1965) for June. He died in Hendon, Middlesex, on 23 August 1965.
References
Edit
Alan Clark, Dictionary of British Comic Artists, Writers and Editors, The British Library, 1998, p. 122
Denis Gifford, Encyclopedia of Comic Characters, Longman, 1987, pp. 21, 146, 179
Ad blocker interference detected!
Wikia is a free-to-use site that makes money from advertising. We have a modified experience for viewers using ad blockers

Wikia is not accessible if you've made further modifications. Remove the custom ad blocker rule(s) and the page will load as expected.