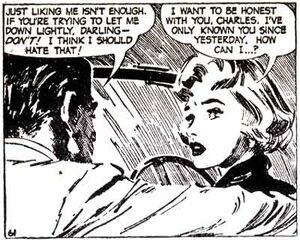 Carol Day was a serial about a fashion model, written by Peter Meriton and drawn by David Wright, which ran in the Daily Mail from 1956 to 1967. After Wright's death it was revived in 1971 in the Sunday Express, drawn by Kenneth Inns.
External links
Edit
Ad blocker interference detected!
Wikia is a free-to-use site that makes money from advertising. We have a modified experience for viewers using ad blockers

Wikia is not accessible if you've made further modifications. Remove the custom ad blocker rule(s) and the page will load as expected.