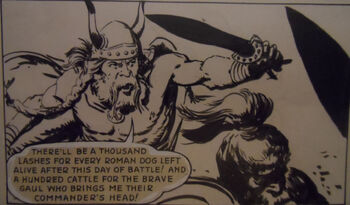 Carlos Gabriel Roume was born in Buenos Aires, Argentina, in 1923, the ninth son of architect Francisco Roume. He started out working in advertising, first in Argentina, then in France, before returning to Argentina and becoming a comic artist in the early 1950s, specialising in literary adaptations.
In 1959 he started getting work in British comics, drawing Dick Daring of the Mounties for Thriller Picture Library, and Buck Jones, the Kansas Kid, The Gun Tamers and Kit Carson for Cowboy Picture Library. He also worked in the weeklies, drawing Olac the Gladiator (1961-62, 1968) for Tiger, Blade of the Frontier (1962-63) for Valiant, Two Fists Against the World (1964) for Hurricane, Rodney Stone (1966) for Ranger and Look and Learn, and Black Beauty (1967) for Tina. In the late 1960s and early '70s he produced illustrations for Tell Me Why, Princess Tina and World of Wonder.
He also worked in the Italian market, but from the early 1970s until 1995 most of his work was in Argentina. He retired to Tandil in the Buenos Aires province, where he painted watercolours and made horse bronzes. He died there on 26 September 2009.
References
Edit
Alan Clark, Dictionary of British Comic Artists, Writers and Editors, The British Library, 1998, p. 149
Steve Holland, Carlos Roume (1923-2009), Bear Alley, 30 September 2009
Online reference
Edit
Ad blocker interference detected!
Wikia is a free-to-use site that makes money from advertising. We have a modified experience for viewers using ad blockers

Wikia is not accessible if you've made further modifications. Remove the custom ad blocker rule(s) and the page will load as expected.