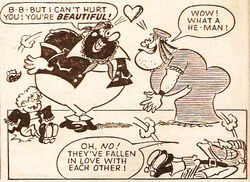 "Captain Kid the Pint-Sized Pirate" is a strip which ran in Whizzer and Chips (specifically, the Chips portion). Based around an inevitable pun on the name of real-life pirate William "Captain" Kidd, the main character is a pirate captain who is a small boy.
Kid's crew never approved of having a wee nipper in charge of the ship, and often conspired against him. However, the captain's muscle-bound "Mumsy" was always there to keep any mutiny at bay.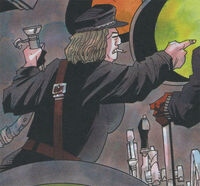 There is a possible reference to the strip in Alan Moore and Kevin O'Neill's 2013 graphic novel Nemo: Heart of Ice. The main character in the book is the daughter of Captain Nemo, and some of her crew members are implied to be the descendants of fictional pirates - for example, Old Tom and Jake Junior are presumably related to Tom the Cabin Boy and Cut-Throat Jake from "Captain Pugwash".[1] Amongst the crew is a burly woman named Kidd, whose last dialogue in the book includes the phrase "oh, mother" - a possible relative of Captain Kid's Mumsy?
References
Edit
Ad blocker interference detected!
Wikia is a free-to-use site that makes money from advertising. We have a modified experience for viewers using ad blockers

Wikia is not accessible if you've made further modifications. Remove the custom ad blocker rule(s) and the page will load as expected.