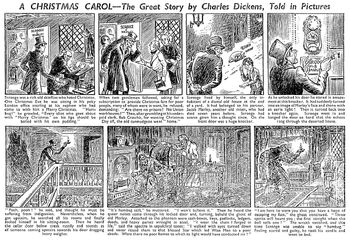 Charles Edwin Montford was born in Bow, London, on 8 September 1891, son of Charles W. Montford, who worked variously as a hairdresser and a lavatory attendant, and his wife Clara. He was an art student in 1911. He worked in comics, primarily as an adventure artist. Strips he drew included "Hopalong Cassidy" (1939) for Radio Fun, "Bob Baker" (1942) and "Roy Rogers" (1944-52) for The Wonder, an adaptation of Dickens' A Christmas Carol (1946) for The Children's Newspaper, "The Captive Outlaw" (1947) for Lucky Dip, "Rolf to the Rescue" (1948) for Starry Spangles, and Kit Carson and Buck Jones stories (1950-57) for Cowboy Comics. He also illustrated books, including an edition of Wuthering Heights. He died in Havering, Essex, in the second quarter of 1975.
References
Edit
Alan Clarke, Dictionary of British Comic Artists, Writers and Editors, The British Library, 1998, p. 114
Denis Gifford, Encyclopedia of Comic Characters, Longman, 1987
Steve Holland, A Christmas Carol, Bear Alley, 25 December 2010
Ad blocker interference detected!
Wikia is a free-to-use site that makes money from advertising. We have a modified experience for viewers using ad blockers

Wikia is not accessible if you've made further modifications. Remove the custom ad blocker rule(s) and the page will load as expected.