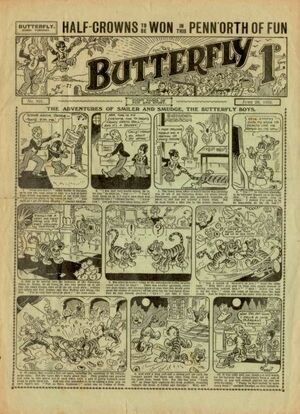 Butterfly was a weekly comic published by Amalgamated Press. It was launched in September 1904 as a relaunch of the Comic Home Journal. It absorbed Firefly in 1917 and Merry and Bright in 1925, and was cancelled in 1940. Amongst its staff was Peter O'Donnell, who went on to create "Modesty Blaise".
Strips included...
References
Edit
Ad blocker interference detected!
Wikia is a free-to-use site that makes money from advertising. We have a modified experience for viewers using ad blockers

Wikia is not accessible if you've made further modifications. Remove the custom ad blocker rule(s) and the page will load as expected.