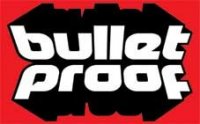 Bulletproof Comics was an outfit which began as an online comic fandom magazine in 2002[1] and briefly became active as a publisher in 2008, before vanishing the following year. It was headed by Matt Yeo, Jason Cook and Matthew Prothero.[2]
During its existence the company published a self-titled anthology, Bulletproof; this lasted for two full issues, each of which was released alongside a 12-page preview issue for distribution at conventions. The company also put out a preview issue (numbered #0) of a comic called Marren Kane and some webcomics.
Bulletproof suffered from a somewhat shaky start (the first issue was set for publication in 2003[3] but actually came out in April 2008;[4] the second was published in October that year[5]) and never recovered. Issue 3 was completed,[6] with a cover and preview pages posted online, but its scheduled date slipped from sometime in 2008[7] to March 2009;[8] in the end, it never materialised at all. A fourth issue of Bulletproof, a four-issue miniseries starring the comic's Redstitch character[9] and a series of Marren Kane one-shots[10] were also announced but abandoned.
The Bulletproof Comics blog was last updated on March 2009. "All is good in the world of Bulletproof Comics and 2009 is looking great", it declared, rounding things off with the promise of "More updates soon… honest!"[11] Oh well...
External links
Edit
References
Edit
Ad blocker interference detected!
Wikia is a free-to-use site that makes money from advertising. We have a modified experience for viewers using ad blockers

Wikia is not accessible if you've made further modifications. Remove the custom ad blocker rule(s) and the page will load as expected.