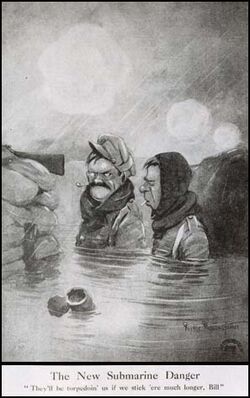 Captain Charles Bruce Bairnsfather, cartoonist and creator of "Old Bill", was born on 9 July 1887 in Murree, British India (now Pakistan) in a British miltary family. He was educated in England, and sold his first drawing, and advertisement for Players cigarettes, at the age of 17. He joined the Cheshire Regiment as second lieutenant, but quit in 1907 to study at the John Hassall School of Art. Initially unsuccessful as a poster artist, he took a job as an electrical engineer and performed in amateur variety as a female impersonator. Through the latter he was introduced to tea mogul Sir Thomas Lipton, and his career as an advertising artist resumed, this time with great success.
At the outbreak of the First World War he joined the Royal Warwickshire Regiment and served with a machine gun unit in France, achieving the rank of captain, until he was hospitalised with shell shock and hearing damage after the Second Battle of Ypres in 1915. Posted to the 34th Division Headquarters on Salisbury Plain, he began drawing "Fragments From France", a series of cartoons about life in the trenches, for the Bystander magazine. The series featured the character of Old Bill, a curmudgeonly soldier with a walrus moustache in a balaclava. It was very popular, both with the troops and the readers back home, and had a morale-boosting effect that led to the War Office commissioning Bairnsfather to draw similar cartoons for other allied nations.
Between the wars, Old Bill retained his popularity, appearing in books, plays, musicals, films, and comic strips in the Daily Graphic, Passing Show, The Illustrated and Judge, and "the Old Bill" became a nickname for the police, probably because so many police officers had moustaches. During the Second World War Bairnsfather continued to draw Old Bill, and became official cartoonist to the American forces in Europe, contributing to Stars and Stripes and Yank and painting the noses of American aircraft. He died in Worcester on 29 September 1959, of liver failure resulting from complications of treatment for bladder cancer.
References
Edit
Mark Bryant, 'Bairnsfather, (Charles) Bruce (1887–1959)', Oxford Dictionary of National Biography, Oxford University Press, 2004; online edn, May 2006, accessed 5 Feb 2012
Online reference
Edit
Ad blocker interference detected!
Wikia is a free-to-use site that makes money from advertising. We have a modified experience for viewers using ad blockers

Wikia is not accessible if you've made further modifications. Remove the custom ad blocker rule(s) and the page will load as expected.