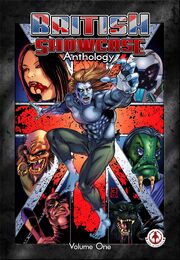 The British Showcase Anthology is a collection of sequential stories from British artists and writers.
Volume one - Sci-Fi & Horror
Edit
Volume one of the BSA (ISBN: 978-1-909276-11-6) is a full colour, 144 page cover bursting graphic novel with stories based on either Horror, Sci-Fi (or both). Volume one will be available from the UK publisher Markosia in October 2013 and will be making its launch at the Scardiff Horror expo on 27th October.
External link
Edit
Ad blocker interference detected!
Wikia is a free-to-use site that makes money from advertising. We have a modified experience for viewers using ad blockers

Wikia is not accessible if you've made further modifications. Remove the custom ad blocker rule(s) and the page will load as expected.