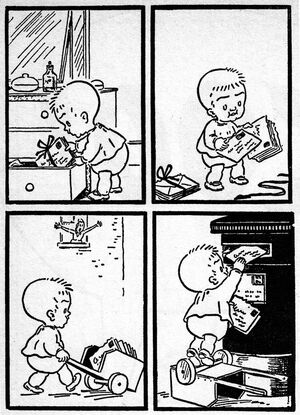 Hugh Brian White was born in Luton, Bedfordshire on 4 April 1902, the son of Frank White, a joiner, and his wife Alice. He started his career as a sports cartoonist and caricaturist for local newspapers. His first comic strip was "Mr. Enry Noodle" for Pearson's Weekly in 1924.
In 1929 he and Sid Griffiths formed the animation studio Griffiths and White in London, producing animated adverts for the Superads agency. The studio continued into the 1930s, when it was taken over by Anglia Films. White then created the daily strip The Nipper for the Daily Mail, which ran from 1933 to 1947. The toddler character was based on White's son John. Short films based on the character were produced by Pathé in 1951. He also drew "Little Tough Guy" (1942) for Knock-Out.
In 1952-53 he was reunited with Sid Griffiths when they both worked on the Halas & Bachelor animated feature film of Orwell's Animal Farm. In 1955 he was contracted to produce a British version of the American strip Double Trouble, which ran in the London Evening Standard until 1967. He also worked on DC Thomson's comics, drawing "Shorty" (1956) for The Beezer, "Keyhole Kate" (1965) for Sparky, "Tick and Snitch" (1973) for Buzz, and "Plum Duffy" (1974) for The Topper
He died in Rustington, West Sussex, in November 1984. His grandson, Jon Edgar, is a sculptor.
References
Edit
Alan Clarke, Dictionary of British Comic Artists, Writers and Editors, The British Library, 1998, p. 183
Denis Gifford, The history of the British Newspaper Comic Strip, Shire Publications, 1971
Online reference
Edit
Ad blocker interference detected!
Wikia is a free-to-use site that makes money from advertising. We have a modified experience for viewers using ad blockers

Wikia is not accessible if you've made further modifications. Remove the custom ad blocker rule(s) and the page will load as expected.