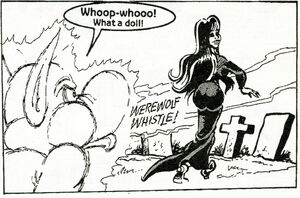 "Bogeyman: He can Change into Anything!" is a strip that ran in The Topper. Somewhat resembling a collaboration between Tex Avery and Tim Burton, the strip stars a ghostly, werewolf-like character who can manipulate his body in a variety of cartoonish ways - pulling his heart out of his chest when he sees an attractive woman, and so forth. He lives in a graveyard with several other ghoulish characters.
Ad blocker interference detected!
Wikia is a free-to-use site that makes money from advertising. We have a modified experience for viewers using ad blockers

Wikia is not accessible if you've made further modifications. Remove the custom ad blocker rule(s) and the page will load as expected.