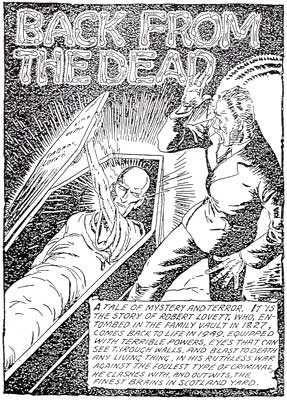 William McCail was born in West Hartlepool, County Durham, on 31 March 1902. When he left school he got a job on a tugboat, and then followed his father into the shipyard, taking evening classes in art. In 1925 he became a staff illustrator at DC Thomson in Dundee, working in the art department of their local newspaper, The Courier, following his older brother Jock.
He drew illustrations for Thomsons' boys' story papers, including The Rover, Adventure and The Wizard, and the women's story papers, Red Letter, Weekly Welcome and Woman's Companion, and Topical Times. He also drew the title illustrations for the "Dixon Hawke" detective stories in the Sporting Post.
He left Thomsons in 1940 and moved to London, where he and his brother worked on a freelance basis on comics published by Gerald Swan, writing and drawing strips such as "Back from the Dead" (Picture Pics #1, 1952), "Headline Henderson", "Old Hooky", "Calling All Cars", "Gentleman Jim" and "Red Martin". He started his own art agency, and set up a studio called Livingstone Studios, later known as Strathmore Studios, in Dundee in 1944. He also founded the studio Mallard Features in Glasgow, which employed artists including Colin Andrew, Len Fullerton, Sam Fair, George Blow, Alf Farningham and Sydney Jordan.
In the late 1940s he developed an interest in drawing and painting horses, exhibiting his work at various galleries including the Royal Scottish Academy in 1949. One of his paintings was bought by the Queen Mother. He retired from the studio in 1962, and died on 12 August 1974, leaving a widow, May, and a son, Ronald.
References
Edit
Alan Clark, Dictionary of British Comic Artists, Writers and Editors, The British Library, 1998, pp. 99-101
Online reference
Edit
Ad blocker interference detected!
Wikia is a free-to-use site that makes money from advertising. We have a modified experience for viewers using ad blockers

Wikia is not accessible if you've made further modifications. Remove the custom ad blocker rule(s) and the page will load as expected.