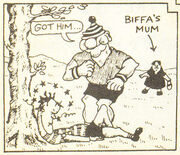 "Biffa Bacon" is a strip from Viz. It stars a loutish Geordie lad (clearly based on Bully Beef from The Dandy) who enjoys beating people up. He lives with his similarly aggressive family members Mutha and Fatha. In early strips, Biffa targeted another boy, Cedric Soft. Later strips more often feature Mutha and Fatha beating up Biffa in bizarre and surreal ways, usually after deliberately misinterpreting something Biffa has said or done as an insult or a challenge to a fight.
Ad blocker interference detected!
Wikia is a free-to-use site that makes money from advertising. We have a modified experience for viewers using ad blockers

Wikia is not accessible if you've made further modifications. Remove the custom ad blocker rule(s) and the page will load as expected.