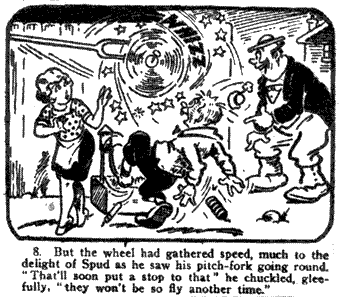 Albert "Bert" Hill was born in Guernsey in the Channel Islands on 1 December 1901, the son of Alfred Hill, a gardener, and his wife Selina, a shopkeeper. He left school at thirteen and became a cinema projectionist, and later joined a firm of printers. His employer encouraged him to submit his drawings for publication, and he started submitting cartoons to the Amalgamated Press. His first cartoon was published in Merry and Bright in 1920, and his first comic strip was published in Larks in 1929.
In the 1930s he worked for Target Publications in Bath, who allowed him to create his own characters and strips, including:
Target were bought out by the AP in 1939 and their titles were discontinued. Hill drew various strips for them, including "Lil and Lena" for Butterfly and "Puckville" for Puck, as well as ghosting for other artists.
The Channel Islands were occupied by the Germans during the Second World War, and Hill was unable to work. After the war ended he resumed his career, drawing children's features for the Guernsey Star newspaper, and contributing various strips to Gerald Swan's comics, including:
He retired to Chichester, and died on 22 October 1986, aged 84.
References
Edit
Alan Clark, Dictionary of British Comic Artists, Writers and Editors, The British Library, 1998, p. 78
Denis Gifford, Encyclopedia of Comic Characters, Longman, 1987, pp. 16, 46, 54, 83, 161, 184, 229, 242, 247
Online reference
Edit
Ad blocker interference detected!
Wikia is a free-to-use site that makes money from advertising. We have a modified experience for viewers using ad blockers

Wikia is not accessible if you've made further modifications. Remove the custom ad blocker rule(s) and the page will load as expected.