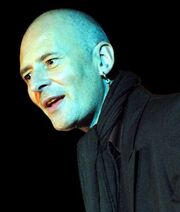 Ben Haggarty is a performance storyteller ( oral reteller of traditional tales) who has a lifelong interest in illustration which has lead him to collaborate with artists to produce  comic strip versions of his tales. He wrote two strips for The DFC: "MeZolith", drawn by Adam Brockbank and later collected as a hardback book; and "Will Skoggin's Skull", drawn by John Welding and appearing in two issues. In 2012/13 he wrote "Silk Roads", an occasional feature in The Phoenix drawn by various artists and consisting of self-contained, folktale-influenced stories.
A second 96 page volume of MeZolith stories (made again in collaboration with Adam Brockbank) is complete and due to be published in Spring 2014.
External links
Edit
Ad blocker interference detected!
Wikia is a free-to-use site that makes money from advertising. We have a modified experience for viewers using ad blockers

Wikia is not accessible if you've made further modifications. Remove the custom ad blocker rule(s) and the page will load as expected.