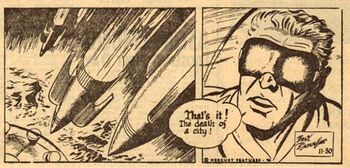 Basil Blackaller was born in Christchurch, Hampshire, in 1921. His comics debut came at the age of 16, drawing "Hairy Dan" in the first issue of DC Thomson's The Beano in 1938. His best known strip was "Pansy Potter, the Strongman's Daughter" for the same title, which he took over from creator Hugh McNeill in 1939 and drew throughout the Second World War. He also drew "Deep Down Daddy Neptune" (1939), "Cinderella and the Ugly Sisters" (1940), "Big Heep" (1940) and "Smart Alec" (1945) for The Beano, "Castor Oil Craddock" (1948) for The Dandy, and "Dick Turpentine" (1940) for The Magic Comic. He moved to the Amalgamated Press and switched to adventure strips, drawing for Super Detective Library, in the 50s. He also drew the syndicated science fiction newspaper strip Ace O'Hara, written by Conrad Frost, in the 50s, and "Captain Falcon" for Rocket (under the pseudonym "Frank Black") in 1956. He died in Surrey in 1958, aged just 36.
References
Edit
Alan Clark, Dictionary of British Comic Artists, Writers and Editors, The British Library, 1998, p. 19
Online reference
Edit
Ad blocker interference detected!
Wikia is a free-to-use site that makes money from advertising. We have a modified experience for viewers using ad blockers

Wikia is not accessible if you've made further modifications. Remove the custom ad blocker rule(s) and the page will load as expected.