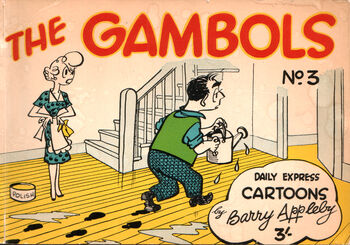 Not to be confused with Barrie Appleby, artist for IPC and DC Thomson
Barry Ernest Appleby was born in Coventry on 30 August 1909. He became a freelance illustrator after leaving school: his first illustrations were published in Autocar magazine, edited by his father, E. J. Appleby. He became a sub-editor on the Daily Express, and created The Gambols, a daily strip about a suburban couple, written by his wife Dobs, whom he had married in Surrey in 1936, which first appeared in the Daily Express on 16 March 1950. Appleby took over writing the strip from Dobs' death, in Yeovil in Somerset, in June 1985 to his own death, also in Yeovil, on 11 March 1996, since when it has been drawn by Roger Mahoney. Since 1999 it has appeared weekly in the Sunday Express. 48 book collections have been published between 1952 and 1999.
External links
Edit
Online reference
Edit
Ad blocker interference detected!
Wikia is a free-to-use site that makes money from advertising. We have a modified experience for viewers using ad blockers

Wikia is not accessible if you've made further modifications. Remove the custom ad blocker rule(s) and the page will load as expected.