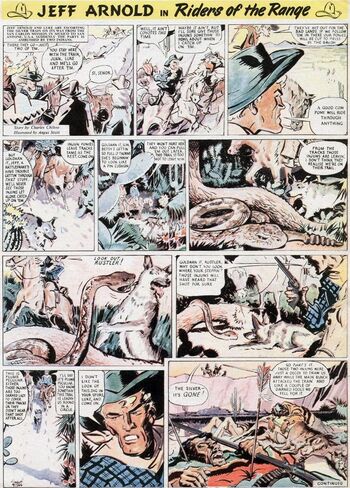 Angus Scott was born in Dumbarton on 12 January 1909, the son of John Scott, a machinist, and Susan Wallace, a housekeeper, who married a month later. He was educated at Glasgow School of Art, and became a prolific illustrator, contributing to Punch and other magazines.
He ghosted for Steve Dowling on Belinda Blue Eyes and Ruggles in the Daily Mirror, and drew Charles Chilton's "Riders of the Range" in the Eagle for ten months. He also illustrated features on dog care by Barbara Woodhouse in Girl.
He wrote two books on drawing, The Art of Pen and Ink (1947) and Drawing in Pen and Ink (1985). He produced five large paintings illustrating "Tam O'Shanter" for the Burns Museum in Irvine, North Ayrshire, and paintings of his are to be found in the Bank of Scotland in Edinburgh and Glasgow.
From 1956 at the latest he lived in Uckfield, Sussex, where he died in March 2003.
References
Edit
Steve Holland, Angus Scott, Bear Alley, 4 March 2009
Alan Clark, Dictionary of British Comic Artists, Writers and Editors, The British Library, 1998, p. 152
Denis Gifford, Encyclopedia of Comic Characters, Longman, 1987