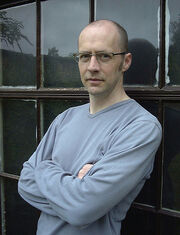 Andrew Wildman is an artist and designer who has worked in comics, TV and video games.[1]
The earliest professional comic he remembers working on was London Editions' Bravestarr, based on the American cartoon series; he also worked on the same company's He-Man comic.
He is heavily associated with the Transformers franchise, and is currently working with Simon Furman on a new title called Transformers: ReGeneration One, which will continue the 1980s comic.[2]
In 2005 he set up the charitable project Draw the World Together.[1]
He teamed up with writer Jason Cobley to create Frontier, a supernatural Western strip that ran in The DFC in 2009 and was published as a hardback in 2012.
His graphic novel Horizon, due to be completed in 2012, is his first comic as writer.[2]
References
Edit
External links
Edit
Ad blocker interference detected!
Wikia is a free-to-use site that makes money from advertising. We have a modified experience for viewers using ad blockers

Wikia is not accessible if you've made further modifications. Remove the custom ad blocker rule(s) and the page will load as expected.