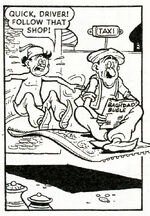 "Ali Ha-Ha and the 40 Thieves" was a strip that ran in The Dandy from 1960 to 1963, drawn by Ken Reid, and in Hotspur in 1971. Set in the legendary Baghdad of the Arabian Nights - mixed up with comic anachronisms - the main character was the son of a policeman. Together, Ali Ha-Ha and his dad went up against a gang of forty nefarious thieves.
The strip returned for a few years during the mid-1980's under the pen of Jerry Swaffield.
Ad blocker interference detected!
Wikia is a free-to-use site that makes money from advertising. We have a modified experience for viewers using ad blockers

Wikia is not accessible if you've made further modifications. Remove the custom ad blocker rule(s) and the page will load as expected.