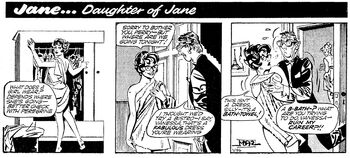 Alfred Leonardus Mazure, who signed his work Maz, was born in the Netherlands on 8 September 1914. A self-taught cartoonist, he created Dick Bos, a tough private eye, in 1940. During the Nazi occupation, he was approached with a lucrative contract to turn the character into an SS officer. He rejected the offer and his books were banned. He turned to filmmaking, either commercially or for the resistance, and produced anti-Nazi cartoons and illustrations.
After the war he signed a contract to revive Dick Bos, but after a witch-hunt against comics following the murder of a teenage girl in 1948, and his name mistakenly appearing on a list of wartime collaborators, he left the Netherlands and moved to England.
He tried to recreate the success of Dick Bos for the UK market with a series of strips about private detectives. Sam Stone (1948-50) and Bruce Hunter (1951-53) appeared in the Daily Herald, before he hit paydirt with Romeo Brown in the Daily Mirror from 1954 to 1957. This strip showcased his ability to draw beautiful women, and his next strip was Jane, Daughter of Jane, a sequel to the famous cheesecake strip Jane, again in the Mirror from 1961 to 1963. He drew another girlie strip, Carmen and Co., although details are sparse. Some new Dick Bos material appeared in the mid-to-late 1960s, and he wrote three novels in English about sexy spy Sherazad. In 1969-70 he drew a strip called Lindy Leigh for men's magazine Mayfair. He died in London on 16 February 1974.
References
Edit
Online reference
Edit
Ad blocker interference detected!
Wikia is a free-to-use site that makes money from advertising. We have a modified experience for viewers using ad blockers

Wikia is not accessible if you've made further modifications. Remove the custom ad blocker rule(s) and the page will load as expected.