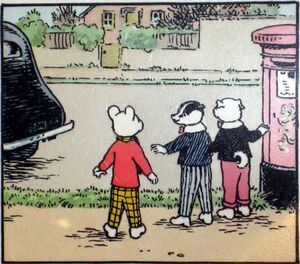 Alfred Edmeades "Fred" Bestall was born in Mandalay, Burma, on 14 December 1892, and was educated at Rydal Mount, Colwyn Bay, before winning a scholarship to Birmingham School of Art. He later attended the LCC Central School of Arts and Crafts in Camden, London. He served in the Army in Flanders in 1915 during the First World War, where he transported troops in red London buses. After the war he completed his studies at the LCC and became an illustrator, illustrating books by Enid Blyton among many others. He drew cartoons for Punch and Tatler, and painted covers for the Amalgamated Press.
In 1935 he took over writing and drawing the Daily Express's daily strip Rupert Bear from creator Mary Tourtel, who had retired with failing eyesight. He produced the strip until 22 July 1965, and continued to paint covers for annuals until 1973. In 1985 he was awarded the MBE, but he was unable to receive the award in person as he was suffering from bone cancer. He died on 15 January 1986 at Wern Manor Nursing Home in Porthmadog, Wales, aged 93.
References
Edit
Online reference
Edit
External links
Edit
Ad blocker interference detected!
Wikia is a free-to-use site that makes money from advertising. We have a modified experience for viewers using ad blockers

Wikia is not accessible if you've made further modifications. Remove the custom ad blocker rule(s) and the page will load as expected.