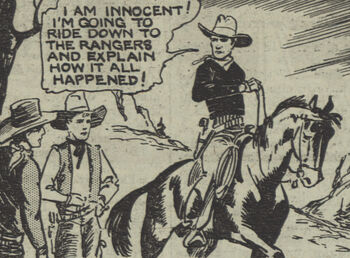 Alan Agenore Gelli was born in Islington, London, in the second quarter of 1894, son of William Angelo Gelli, a bank clerk, and his wife Agnes Eleanor, née Tull.
He drew adventure strips for Amalgamated Press weeklies in the 1930s and 40s, including "Riders of Red Circle" (1936) and "Gary Cooper" (1937-38) for The Jester; "Mystery of Plunder Island" (1937) for Jingles; "Pluck of the Legion" (1939) for Crackers; and "Captain Scarlett" (1940), "Gulliver's Travels" (1940) and "Brownie" (1941-45) for Tip Top.
He died in North Walsham, Norfolk, in the third quarter of 1947, aged 53. There is no record of him marrying or having children.
References
Edit
Alan Clark, Dictionary of British Comic Artists, Writers and Editors, The British Library, 1998, p. 63
Denis Gifford, Encyclopedia of Comic Characters, Longman, 1987, p. 35
Gary Cooper in "The Oregon Trail" and "They Made him Outlaw!" from The Jester, at Wonderfully Vulgar
Online reference
Edit
Ad blocker interference detected!
Wikia is a free-to-use site that makes money from advertising. We have a modified experience for viewers using ad blockers

Wikia is not accessible if you've made further modifications. Remove the custom ad blocker rule(s) and the page will load as expected.