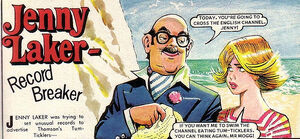 A. E. Allen was an artist who worked mainly on girls' and romance comics, through the agency Linden Artists. He or she seems to have been an established illustrator before he/she started drawing comics in the 1950s. He/she worked for Marilyn and Roxy in 1951-63, and also drew for Girls' Crystal, School Friend, June and various other titles, including "Barbie the Model Girl" (1967-68) for Tina and "The Land of Nowhere", "Quackers", "Pamela, Pet Finder", "Jenny Laker, Record Breaker" and "Little Queen Bea" for Bunty. He/she was still working as late as 1981.
References
Edit
Online reference
Edit
Ad blocker interference detected!
Wikia is a free-to-use site that makes money from advertising. We have a modified experience for viewers using ad blockers

Wikia is not accessible if you've made further modifications. Remove the custom ad blocker rule(s) and the page will load as expected.